PROGRAM RESOURCES
Saint Joseph's College is pleased to announce our newest certificate program!
Certified Veterinary Assistant
October 18, 2022 - March 16, 2023
Tuesday & Thursday 6 - 9PM CST
Still in high school and want to take this program? NO PROBLEM! No high school diploma required!
MedCA Certification Eligible Upon Successful Completion
Contracted with Local Vet Agency
Focuses on Small and Large Breed Animals
20-Week Certificate Program
$2,100 Tuition + $100 Registration Fee
SCHOLARSHIPS AVAILABLE!!!
No High School Diploma Required!

Questions?:
(219) 866-6000 x 2022
hchapman@saintjoe.edu
Ready to Enroll?: www.saintjoe.edu/enroll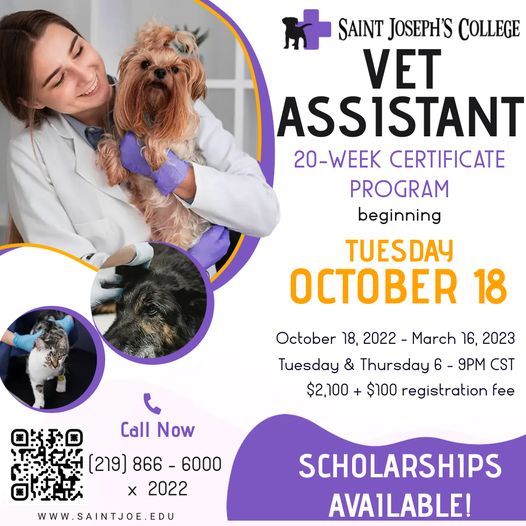 The Certified Nursing Assistant (CNA) program at Saint Joseph's College not only offers students the opportunity to learn the knowledge necessary to become a certified CNA but also to learn the skills through hands-on and relevant learning. Before students are sent out for their clinical experiences, we replicate real-life situations in our new CNA lab; this allows our students to practice and perfect their learning and skills.
CNAs provide care to patients in many different settings; nursing homes, retirement homes, hospitals, adult daycare, etc. CNAs provide primary care to patients or residents, such as personal care, dressing, bathing, and feeding, as well as helping monitor patients and documenting and communicating with the nursing staff. The duties of CNAs are dependent upon your work environment. Regardless of where one is employed, CNAs are a critical component of inpatient care.
Upon completion of the course, students will be eligible to sit for their CNA certification exam. The certification is through the Indiana Department of Health.
The average hourly pay for a Certified Nursing Assistant is $11.00 - $13.00. The job outlook for CNA is expected to grow much faster than average. Projected Employment for Indiana is an Increase of 4,020+ job openings.
Tuition: $870
5 week program
+80 clinical hours
Meets 2 days each week, 4 hours each day
9-1pm, or 5-9pm